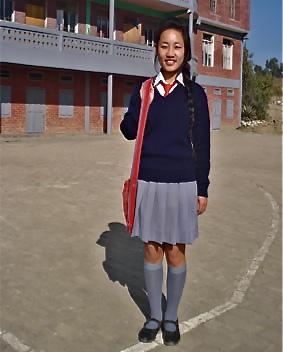 Meet Vunghoihkim, our Angel of the Week! Her friends call her Rejoice.
Rejoice is another James Connection success story!
She came to Angels' Place in 2005 at 9 years old. Her mother died when she was 4 and her father, who was an alcoholic, was struggling to take care of her. Her home life became dangerous for such a young child so her grandmother, in desperation, brought her to Angels' Place.
Rejoice remembers life being very hard before finding a home at the orphanage. Like so many children, she feared a future without hope...for an education, for a career, for a happy home life. Now, she talks about the warmth and friendship she feels at Angels' Place. It truly feels like the home she never had as a young child.
Not only does Rejoice appreciate the joy of having a warm loving family, but she also talks about how much she gets to do now. Most importantly, she goes to school and values her education as a path to a successful future. She loves learning, especially English, which she finds fascinating. She also loves to read. Rejoice is also a gifted singer, a gift she gets to cultivate and share with others as part of the singing group at Angels' Place.
Rejoice is now a happy healthy 19 year old looking toward a bright future! She wants the world to know she is "a good and kind-hearted girl" who dreams of being an airline attendant one day. She was baptized a Christian in 2012 and feels blessed to be part of such a kind and caring spiritual community. Warmth, friendship, love, and spiritual nourishment keep kids like Rejoice reaching for a better future. Thanks to her sponsors and the generosity of our donors, she knows it is possible.
There are hundreds of children, like Rejoice, waiting for a home at Angels' Place. You can help make room for them by visiting our Ways to Help page now.