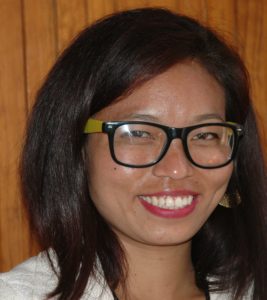 Jan, our Founder and Executive Director, made his yearly journey to visit Angels' Place in early March. He had the opportunity to catch up with many of the "Angels" during his short visit. Here is the first in a series of stories about kids whose lives have been transformed through the work we do at The James Connection. Below is the story of Thuamneiching, told in Jan's words...
"I have talked and written about Thuamneiching many times since she came to Angels' Place 13 years ago, Before reaching age six she had lost her home and all belongings when a rival tribe invaded her village, burned her house and drove her and her family away. She escaped with just the clothes she was wearing and the possessions she could carry. She had already lost her father. She went to live with her grandmother, and the two of them survived on cutting wood in the forest and selling it at market. This earned them about $1.25 a day, not enough for her to attend school and pay for her supplies. She came to Angels' Place in 2005, already three years behind in school. She immediately made her mark. She did well in school and, after one year's instruction in martial arts, won the state title. Several years later she won outstanding girl athlete at a state track meet. Thuamneiching left school before finishing class twelve when she had an offer from a family to help with their children while traveling. She spent four months in Myanmar and one year in Singapore. While away she contracted dengue fever which knocked her out for many months. Now she has returned to Churachandpur and wants to finish class twelve, pass the state exam and qualify for college. She is working ten to twelve hours a day at a restaurant to support herself and her disabled mother while studying for the qualifying exam. She will make it. She has overcome much bigger challenges. Thuamneiching is modest and shy but hard working and determined. She is thankful for Angels' Place. She says "it was fun" and she learned to help others. It has been a wonderful privilege to have known her and watched her grow into a fine young woman."
It is only through the support of our generous donors and sponsors we are able to make a difference in the lives of children like Thuamneiching.  Won't you be part of the solution?  Learn how you can help by visiting our Ways to Help page.