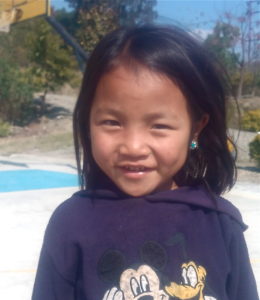 Meet Lunkim (known as Kim by her friends and family), one of the youngest Angels living in our orphanage.  She is a sweet little girl from the small remote village of Kangkap.  You would never know behind her smiling eyes and cheerful personality there hides a story of sadness and hardship many of us could never imagine.  She is one of the lucky few who got into Angels' Place.  There are hundreds just like her still waiting with no family to take care of them.  Waiting for a sponsor or donor to help us make room for them.
Kim came to Angels' Place this past February after her father died from cancer.  Her mother, like so many young widows in India, was left destitute and could not care for her children.  Kim remembers how difficult her life was and how she was so often sick.  With with no access to quality medical care in these small villages, children like Kim often suffer needlessly.  The very sick often don't make it.
Today, thanks to her sponsors, Kim is a healthy, vibrant and happy little girl who loves to play with her new friends and sing and dance with the performance group.  She is getting the medical care she needs, healthy nourishing meals and a warm bed to sleep in.   Most importantly, she is surrounded by a loving community of adults who want her to thrive.
Thank you to our sponsors and donors who make it possible for children like Kim to escape the ruthless grips of poverty.  Please, help us spread the word so we can make room for the hundreds just like her still on our waiting list.  Visit our Ways to Help page to learn how you can help us reach more potential sponsors and donors.
To read more Angel of the Week stories, click on Angel of the Week under "Categories" to the right of this page.