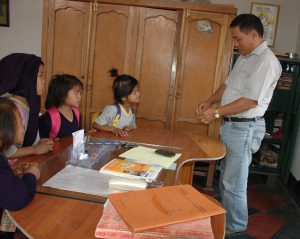 Meet Englian Valte, the Superintendent of Angels' Place.
Englian's job is to look after the welfare of the children and staff.  He sees himself as the link between the administration, staff and the children.  As a retired bank professional, he is now the longest serving superintendent to work at the orphanage and he is one of our greatest assets.  He is reliable, trustworthy, and has a strong commitment to fulfilling his responsibilities to the best of his ability.  Though he faces many challenges in his role, especially with problem children with low self-esteem, he finds it all worthwhile when he sees them blossom with proper nourishment, love and good care.  His greatest motivation is his desire to give children hope, especially those who have none.
In Englian's own words:  "I consider myself privileged to serve the Lord in Angels' Place as one of the staff.  I am happy and contented."
We, at the James Connection, feel tremendously blessed to have such dedicated and hard-working individuals like Englian working with our children.  Thank you Englian!
Look for more stories of the people working behind the scenes "Inside Angels' Place" coming soon.  In the meantime, if you have not read any of our "Angel of the Week" stories, don't miss them.  You will be inspired.  Just click on "Angel of the Week" under categories to the right of this page to begin.
To learn how you can get involved, visit our Ways to Help page.