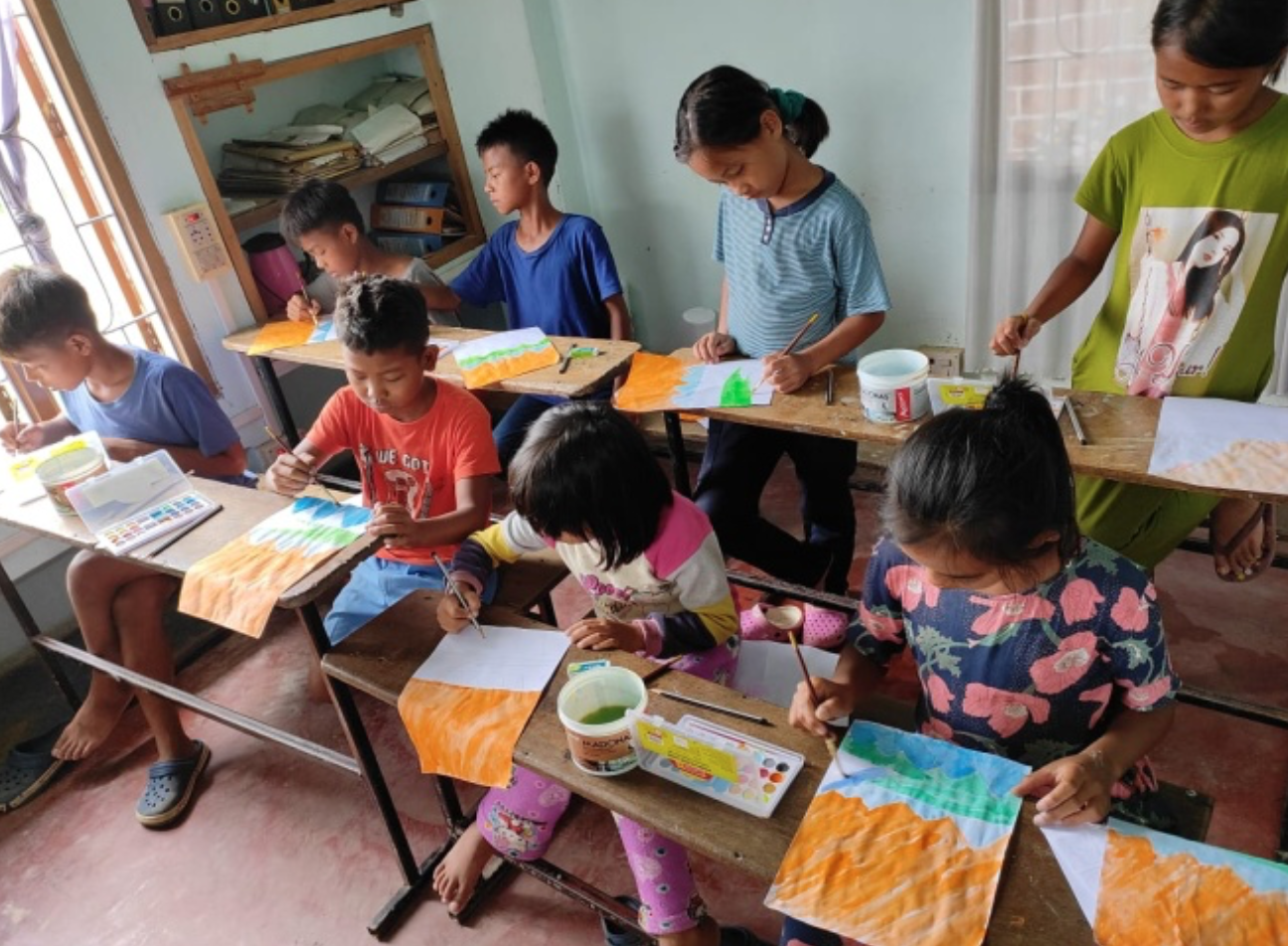 The summer has been a busy time at Angels' Place!
India continues to face the Covid-19 pandemic. The rate of new cases has declined since the worst period, which was in May of this year, but the disease remains a primary concern for the nation and for managing the community at Angels' Place. Manipur, the state where Angels' Place is located, has had lower occurrence of Covid-19, which is fortunate for the staff and children. All those over the age of 18 have received at least one vaccination, and all of the children remain protected by the measures taken by the staff: masking, daily temperature checks, and a no-visitor policy to the campus.
To date, no child has contracted Covid-19, a blessing for which we are thankful.
The state education department decided this summer to cancel board exams for the older children in order to reduce transmission risk for Covid-19. The staff has been working hard to keep the children involved in activities and to support education during this time while the school system has been suspended. Earlier this year, a number of the children participated in a painting competition, and staff has presented a number of presentations geared toward learning professional skills and cultivating a healthy work-life balance as the older students approach adulthood. We also are pleased to share news of several programs held over the summer:
Core Classes: In order to keep children on track with their schooling and keep them engaged in studies, the staff started to teach regular classes for all children from nursery school through Class 10. The on-site instructors have divided the responsibilities for teaching writing, communication skills, and reasoning skills. Additionally, students in Classes 9 and 10 are also taking classes in social science, science, English, and mathematics.
Bible Study: In July staff had Bible study, which was divided into two groups: nursery school through Class 6, and Classes 7-12.
Sewing: Eight of the students participate in vocational training in sewing, which had been suspended because of the pandemic. The program resumed this summer, with modifications to protect everyone's health.
Online Painting Class: A weekly online painting class was organised for interested children ages 9-12. A professional designer, Mrs. Smriti Ahuja, taught the course titled "Healing with Paint."
Finally, we are pleased to report the graduation of 12 children from their schooling and from Angels' Place. Sanga and other staff members held a ceremony on July 2, to congratulate them and offer encouragement as they enter their independent adult lives. During the program, the children expressed their heartfelt gratitude to James Connection sponsors and the staff of Angels' Place for all the years of love, care and nurturing that they have received. Their successful transition into adulthood has come due to the generous support of all the James Connection sponsors, who have provided them with a safe and secure home, nourishment, education, and spiritual enrichment.